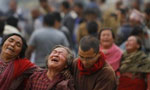 At least 3,218 people are now known to have died in a massive earthquake which hit Nepal on Saturday, say officials.
Rameshwor Dangal, head of Nepal's disaster management agency, said another 6,500 people had been injured.
According to the BBC news, dozens of people are also reported to have been killed in neighbouring China and India.
Thousands have spent a second night outside after the 7.8-magnitude quake, which also triggered deadly avalanches on Mount Everest.
Vast tent cities have sprung up in Nepal's capital, Kathmandu, for those displaced or afraid to return to their homes as strong aftershocks continue.
"We don't have a choice, our house is shaky. The rain is seeping in but what can we do?" 34-year-old shopkeeper Rabi Shrestha, who was sleeping by the roadside with his family, told AFP news agency.
Rescue missions and aid have started arriving to help cope with the aftermath of the earthquake, the worst to hit Nepal for more than 80 years.