---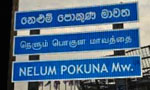 Nelum Pokuna Mawatha, which runs from Horton Place Roundabout to Public Library Roundabout, is to be named Ananda Coomaraswamy Mawatha once again Colombo Municipal Council (CMC) sources said today.
The road was renamed Nelum Pokuna Mawatha in 2011 with the opening of the Nelum Pokuna Perfoming Arts Stadium.
Sources said the old name would be restored at a ceremony next week to which President Maithripala Sirisena is to participate as Chief Guest.
The source said there were no plans to rename the Nelum Pokuna Performing Arts Theatre.
(YP)