---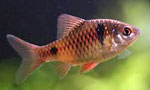 About 180 numbers of indigenous and endangered live fish were detected by the customs Bio Diversity and National Heritage Division yesterday packed and ready for export at the Cargo Unit in Katunayaka.
Customs Media Spokesman Leslie Gamini said the fish was identified as (De-pulliya) two-spot barb or Puntius Cumingi which were to be exported to South Africa.
This species of fish recorded in the red data book and categorized as threatened fauna and flora can only be exported on a permit from the Fisheries Department, he said.
The Customs imposed a penalty of Rs.10,000 on the company and the fish was confiscated and ordered to be handed over to the Zoological Gardens in Dehiwela, Mr. Gamini said.
(Chaturanga Pradeep)