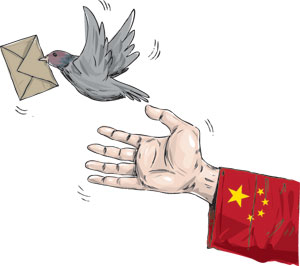 The Chinese Government is expected to send a special envoy to Sri Lanka soon for discussions on bilateral matters with the new Government of President Maitripala Sirisena, Foreign Affairs Ministry sources said yesterday.
China and Sri Lanka enjoyed healthy diplomatic relations under the previous government with the two sides elevating 'Strategic Co-operative Partnership' to a new level. China funded key infrastructure development projects including the Hambantota Port Project and the Mattala International Airport while the new Government had said it would reassess Chinese-funded Colombo Port City Project.
In the wake of the change of government, Chinese President Xi Jinping sent a congratulatory message to President Sirisena expressing willingness to elevate the Strategic Co-operative Partnership to a new level.
However, the Government has announced that it would review the Chinese-funded projects including the Port City Project, particularly in terms of their cost factor and environmental viability.
Sources from the Foreign Affairs Ministry of Sri Lanka said the new government would strike a balance in its relationship with countries in the West and in the West.
Foreign Affairs Minister Mangala Samaraweera undertook his first official visit to New Delhi. Next week, he is planning to visit the United States to meet Secretary of State, John Kerry. It is learnt that he would later hold talks with Chinese leaders in Beijing.
(Kelum Bandara)