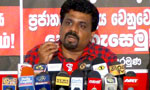 The National Executive Committee (NEC) today discussed the alleged coup planned on the January 8 night to block the transfer the power to the winning candidate, Janatha Vimukthi Peramuna leader Anura Kumara Dissanayake said today.
The NEC, which was established on the election manifesto of President Maithripala Sirisena, met this morning.
The committee is comprised of the president, prime minister, former president Chandrika Bandaranaike Kumaratunga, Anura Kumara Dissanayake, Patali Champika Ranawaka, Sarath Fonseka, R. Sampanthan, Rauff Hakeem and Rishad Badhiutheen.
The committee had decided to obtain a report within a week on the alleged conspiracy that was complained of to the Criminal Investigation Department after being investigated by a DIG appointed to probe the complaint, he said
The NEC has also discussed the proposed amendments to the constitution, he said.
They have also agreed to stipulate a procedure to investigate and bring to court those responsible for the murders, abductions and assaults committed in the past.
Among other matters discussed were appointing a new Commissioner to the Commission to Investigate allegations of Bribery and Corruption and investigations to be carried out as to what had happened to the vehicles, properties and the gold seized in war areas after the end of the war, he said.
(Sanath Desmond)