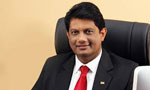 Former Securities and Exchange Commission (SEC) Chairman Nalaka Godahewa and two other ex-Directors R. Ibrahim and Dhammika Manjira Perera, who were arrested by the Financial Crime Investigation Division (FCID) over alleged misappropriation of funds in the SEC, were today ordered to be released on bail by Colombo High Court Judge Pathmini N. Ranawaka.
Following the submission made by defense counsel, Kalinga Indatissa, Asela Rekawa and Vidula Rajapaksa, court allowed to release the suspects on cash bail of Rs. 500,000 with two sureties of Rs. one million each.
The judge also imposed a travel ban on the suspects and ordered them to report to the CID on the last Saturday of every month.
The suspects were allegedly involved in a fraudulent transaction of Rs 5 million. The money was to be paid to the 'Tharunyata Hetak' organization, but had been remitted to a company named Ceylon Premium Sports.
Appearing for the first accused President Counsel Kalinga Indatissa stated that in accordance with the number 12 Public Property Act, the Securities and Exchange Commission could not be classified as a government body, since the so called act has clearly stated the institutions fall under the public property such as relevant Government corporations, Banks, Statutory Boards, etc.
He further said there was no conclusive evidence revealed from the case productions to prove his client's involvement in the misappropriation at SEC, as his client had done everything according to the regulations during the alleged transaction.
Counsel Asela Rekawa also observed even the Auditor General had not come across the alleged transaction in his annual report, as there was no wrong doing during the transaction.
Nalaka Godahewa was the chairman of the Securities and Exchange Commission (SEC) for nearly two years under former president Mahinda Rajapaksa,
The case was postponed for February 17.
(Shehan Chamika Silva)