---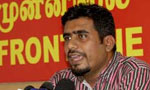 The Leftist Front comprising the Frontline Socialist Party (FLSP), New Leftist Front (NLF) and the United Socialist Party (USP) had decided to field FLSP politburo member Duminda Nagamuwa as their common candidate for the upcoming presidential election.
FLSP Propaganda Secretary Pubudu Jagoda said today that they held discussions with leftist parties about the possibility of fielding such a candidate soon after the announcement of the election.
"We are having discussions with several other socialist parties and organizations such as the Maoist Communist Party, Praxis Collective and People's March to get their support as well. They will also join us in our campaign," he said.
He said the main political parties were engaged in an attempt at increasing their vote base rather than addressing the issues of the working people.
"The main political parties are not talking about people's issues but they are trying to change the people's opinion and increase their votes. There were rumours that some ruling party politicians may cross over but they now say they will not. The people know that large sums of money are changing hands," he said. (Ajith Siriwardana)