---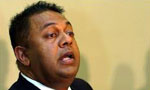 Foreign Minister Mangala Samaraweera will undertake an official visit to China on February 27-28, at the invitation of the Minister of Foreign Affairs of China, Wang Yi, the ministry announced today.
"We hope to use the opportunity of this visit by Foreign Minister Samaraweera to have a further deep exchange of views on the future of Sino-Sri Lanka ties under this new situation," Chinese Foreign Ministry spokeswoman Hua Chunying told a daily news briefing.
President Maithripala Sirisena, who is in India, will visit China likely in the last week of March.
Chinese Assistant Foreign Minister Liu Jianchao, who earlier this month travelled to Sri Lanka as a special envoy of the Chinese government, told Indian reporters at a reception on Monday that President Sirisena will likely visit China around March 26-30.