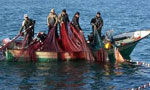 NEW DELHI:
Fishermen associations of India and Sri Lanka will meet on March 6 in Colombo to thrash out a formula to end the dispute over fishing boats from Tamil Nadu encroaching into Lankan waters. The meeting follows discussions between heads of governments of the two nations.
President Maithripala Sirisena discussed with PM Narendra Modi the long-standing issue and its adverse impact when they met in New Delhi on Monday. Modi and Sirisena discussed the reconciliation efforts undertaken by the new Lankan government for the Tamils, official sources said.
Sirisena raised the issue of fishermen from TN bottom-trawling in Sri Lankan waters and destroying the island's coral beauty and ocean wealth.
Giving a presentation, Health Minister Rajitha Senaratne who accompanied the president, claimed the methods adopted by TN fishermen posed a grave danger to the island and hurt the livelihood of its fishermen.
A senior Lankan official alleged that Colombo had brought these issues to the attention of the previous governments in New Delhi, which failed to act. Modi has realised that this was a serious matter and urgent resolution was necessary, the official informed. Addressing the joint press briefing with Sirisena, Modi said, "we will encourage fishermen's associations on both sides to meet again soon. They should find a solution that can be taken forward by both governments."
Official sources said the fishermen associations are expected to meet in Colombo on March 6 ahead of Modi's visit to the Lankan capital and Jaffna in mid-March. A formula that the two sides could explore is that TN fishermen have fishing rights for one week in the waters dividing India and Lanka and their Lankan counterparts similar rights for another full week, sources indicated. The two sides are also exploring drawing a boundary in the seas through balloons or similar material. An announcement for the lasting resolution of the issue could be made when Modi visits Colombo next month.
Government officials said India appreciated Sirisena government's 100-day programme, particularly those involving measures to reach out to Tamil minorities. Modi has lauded measures like appointing eminent civilians as Governors of the Northern and Eastern Provinces in place of military commanders, and deciding to return one thousand acres now under the Army's control to its owners in the northern part of Jaffna peninsula, among other things. Modi could announce additional measures for the Tamils when he visits Jaffna.
(Indian Express)