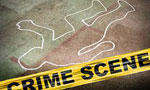 Sending shockwaves of a gruesome killing, the police today found a limbless torso from Dematagoda subsequent to the recovery of a pair of legs and an arm on Sunday (15) and Monday (16).
The partly burnt body of a male without the head and the limbs was found from a garbage dump near the 'Kalu Palama' in Dematagoda yesterday afternoon. The victim was found to be wearing a green pair of shorts with no cover on the remaining part of the upper body.
Police Spokesman ASP Ruwan Gunasekara said a special police guard had been deployed to the crime scene until the Magistrate arrives for inspection.
Meanwhile, theWelikada Police recovered a right arm from the Nawala Canal on Monday. This was following the recovery of a pair of legs found from a canal in Dematagoda area on Sunday.
The police investigating into these mysterious recoveries of human body parts are to conduct a DNA test to determine whether they belonged to the same person, ASP Gunasekara said.
He said the police are yet to ascertain whether the missing body parts would match a description of any missing person in the recent past.
Dematagoda and Welikada Police Stations are conducting separate inquiries.
(Kurulu Koojana Kariyakarawana)