---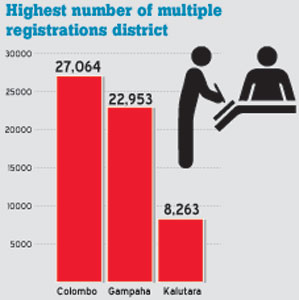 The annual report of the Elections Commission has revealed that according to the 2016 electoral lists 143,902 people had registered their names several times.
The report presented to Parliament recently states that the highest number of multiple registrations was recorded from the Colombo District with 27,064 such registrations, 22,953 in Gampaha and 8,263 in the Kalutara District.
There had also been 5,697 multiple registrations in Jaffna and 3,748 in the Vanni district.
The report said the commission has deleted the name of these persons who had tried to register themselves in several areas from the electoral lists.
Meanwhile it stated that the total number of electors had increased by 150,756 in 2016 compared to the previous year. The number of electors in the Colombo District had increased to 1,649,716 last year compared to 1,640,946 in 2015 while the number of voters in Gampaha had increased to 1,705,310 last year compared to 1,681, 887 in the previous year. The number of electors in Jaffna increased to 548,070 last year while number of voters in Vanni had increased to 269,11 when compared with 263,201 in 2015. (Yohan Perera)