---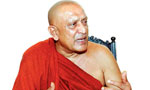 With the National Movement for Social Justice (NMSJ) led by Ven. Maduluwave Sobitha Thera urging the enactment of electoral reforms, President Maithripala Sirisena will hold a special meeting tomorrow with representatives of this group to discuss the way froward.
The NMSJ and some other civil society groups had earlier requested both the President and Prime Minister Ranil Wickremesinghe to enact the electoral reforms through the 20th Amendment to the Constitution before dissolving parliament.
The United National Party (UNP) wants parliament dissolved and and fresh elections conducted. However, there are groups from inside and outside the government urging the enactment of electoral reforms before such a move. The President has also worked out a concept paper in this regard proposing to increase the number of MPs to 255.
(Kelum Bandara)