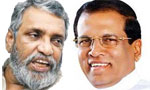 President Maithripala Sirisena hopes to meet Elections Commissioner Mahinda Deshapriya soon to discuss the proposed electoral reforms, Cabinet Spokesman and Minister Rajitha Senaratne said yesterday.
He told Daily Mirror that the enactment of electoral reforms was a key election promise made by President Sirisena during his campaign and as such he believes the government is obliged to fulfil this promise to the people.
Dr. Senaratne, who is also the Vice President of the Sri Lanka Freedom Party (SLFP), said he raised this matter at the National Executive Council (NEC) which comprises representatives of the political parties that backed the President at the election. It has been appointed to oversee the execution of the 100-day programme.
He said SLFP was insistent on electoral reforms and that it should be carried out without delay.
"If there is a will, new electorates can be delimitated within 40 days. There are different formulas being presented for a new electoral system, which is a mix of the First-Past-the Post-System and the Proportional Representation System," Dr. Senaratne said.
He said some parties in the government were not keen to have electoral reforms enacted during the 100-day programme.
"It is unacceptable. There is time for it. If there is will, it can be done. During my election campaign, I categorically said that electoral reforms will be enacted on a priority basis. Nobody in the government can disregard it now," he said.
Dr. Senaratne said the SLFP was flexible with regard to the abolition of executive powers as a part of constitutional amendments.
(Kelum Bandara)