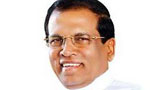 President Maithripala Sirisena yesterday told the representatives of the UPFA that he could not agree to offer nominations to former President Mahinda Rajapaksa to contest the next election under under its betel symbol as the prime ministerial candidate, informed sources said yesterday.
The President, in his capacity as the UPFA Chairman, met the leaders of the parties aligned with it politically on Wednesday evening.
During the meeting, the UPFA leaders had asked about the President's stand on the proposal to nominate Mr. Rajapaksa as the UPFA prime ministerial candidate. President Sirisena is reported to have declined to nominate his predecessor.
The President has said that Mr. Rajapaksa had served in politics for a long time as an MP, a Minister, a Prime Minister and the President for two terms, and therefore another member should be given that opportunity. President Sirisena also requested the UPFA leaders to cooperate with him as the chairman of the party to execute his next political programme .
However, the UPFA leaders, who were present, did not agree to the President's refusal to give nomination to Mr. Rajapaksa.
The no -confidence motion against the present government led by the United National Party (UNP) and the formation of a UPFA government before the declaration of the general election were also other topics being discussed.
In the meantime, UPFA leaders met Mr. Rajapaksa in Colombo yesterday morning. According to a party leader who attended the meeting, Mr. Rajapaksa expressed his willingness to contest as the UPFA prime ministerial candidate. He had also endorsed the decision by the UPFA to move a no confidence motion to unseat the present government, and to form its own prior to the declaration of the election.
The UPFA leaders decided to announce their final stand to President Sirisena through Party Secretary Susil Premajayantha.
(Kelum Bandara)