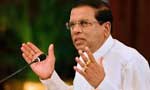 President Maithripala Sirisena today urged the Opposition to support the government to formulate and enact a new Constitution and to put the nation on the right track.
"We need the blessings and support of Opposition Members of Parliament to enact a new Constitution," the President said during the committee stage debate on the budget in Parliament last morning.
"I personally feel all powers of the Executive President should be handed over to Parliament" he said indicating that time is right for reforms. He also reminded the House that it is almost one year since he assumed duties as President.
The President recalled that the previous government could not bring about fruitful political reforms though it enjoyed a two-thirds majority in Parliament. He said the previous regime only used the two-thirds majority to introduce the 18th Amendment to the Constitution and further strengthen the powers of the executive.
The President said he had been able to bring about discipline in his spending. "I don't take delegations of more than 200 people in chartered aircraft," he said and added that he was able to end an era where monies were pocketed even from the purchase of wreaths that were sent to funeral houses.
The President said the international community had changed its perception on Sri Lanka with many countries welcoming the country as a trusted friend.
He said British Prime minister David Cameron had pledged to mediate with the EU to lift the ban on Sri Lankan fish exports and added that he had also pledged financial assistance to Sri Lanka.
(Yohan Perera)