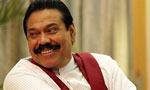 Former President Mahinda Rajapaksa is unlikely to report to the Bribery Commission (BC) though it had summoned him to do so on April 24, his spokesman Rohan Weliwita said today.
However, he said Mr. Rajapaksa was awaiting a proper response from the Bribery Commission because he is unaware as to why he had been summoned and the name or names of those who filed the complaint against him.
"The Commission should inform him of all the details with regard to the allegations because the former president is only aware that he has been asked to report to the Commission to record a statement," Mr. Weliwita said.
He said Mr. Rajapaksa's lawyers would check what the allegations were and the name or names of who had complained to the commission.
Mr. Weliwita said the former president had decided not to report to the Bribery Commission if it failed to provide the details of the complaint before April 24.
Earlier, news reports stated that the BC would record a statement from the former president over a fraudulent document produced by former Health Minister Tissa Attanayake during the presidential election and about the portfolio granted to him no sooner he joined the then government after quitting the UNP.
(Piyumi Fonseka)