---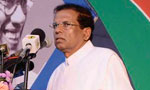 Common candidate Maithripala Sirisena today said that more members of the government were due to defect and pledge support to him in the run-up to the Presidential polls.

Speaking at his inaugural rally held in Polonnaruwa today, Sirisena said that the government has been shattered after he quit and added that he was expecting more members from the government side to join him in the next few days.

"Dear President, this is not a personal attack or a betrayal of you. I have been opposed to the policies that you have adopted in governing the country. This is not a betrayal of you or your family but a blow against bribery and corruption," he had stated.

In his speech he had further stated that it is unfortunate that the government did not succeed in introducing people friendly policies despite having a 2/3 majority in parliament, which they instead exploited to bring in constitutional amendments to build their power base by abusing the 18th Amendment which was brought in to help the President to contest for the Presidency for a third term.