---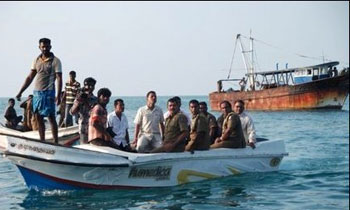 Ten Indian fishermen were apprehended along with two fishing trawlers by the Navy, for poaching in Sri Lankan waters, in two separate incidents inTaleimannar and Karainagar last night.
Navy said four Indian fishermen along with a fishing trawler, engaged in illegal fishing activities, were apprehended in the seas off Talaimannar.
The apprehended fishermen and trawler were handed over to the Mannar fisheries authorities for onward action.
Meanwhile, naval personnel attached to SLNS Elara located in Karainagar in the Northern Naval Command apprehended another six Indian fishermen who were poaching in the seas off Delft Island.
Navy said along with the suspects, a fishing trawler and two unauthorized fishing nets were also taken into custody. "Upon bringing the apprehended fishermen and items to the Naval Base SLNS Elara, they were handed over to the Jaffna Fisheries Director for further investigation" Navy said.
The arrest comes a day after eight Indian fishermen were detained by Sri Lankan Navy along with one boat near Neduntheevu in Palk Strait.
Immediate release of the fishermen presently in custody has been announced following the ministerial level talks between Minister of Agriculture and Farmers Welfare of India Radha Mohan Singh and Minister for Fisheries and Aquatic Resources Development of Sri Lanka Mahinda Amaraweera in Colombo.(Darshana Sanjeewa)