---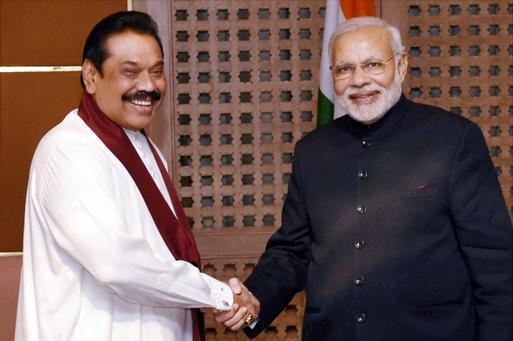 Prime Minister Narendra Modi on Wednesday held a bilateral meeting with Sri Lankan President Mahinda Rajapaksa during which he thanked him for pardoning and sending back five Indian fishermen, who were sentenced to death for alleged drug trafficking.
During the meeting, which lasted for nearly 30 minutes, the two leaders discussed important bilateral and regional issues. This is the third meeting between the two leaders since Mr. Modi took over as Prime Minister in May.
Mr. Rajapaksa attended Mr. Modi's swearing-in after which they held a bilateral meeting. Later, the two met on the sidelines of the UN General Assembly in New York in September.
Asked if Mr. Modi thanked him for the release of fishermen, Mr. Rajapaksa said that, "I said we must thank Modi for his foreign policy, it (release of fishermen) happened due to that."
"The relationship between India and Sri Lanka is very good," he said.
Five Indian fishermen sentenced to death in Sri Lanka for alleged drug trafficking were released last week after President Rajapaksa pardoned them.
The fishermen were apprehended in November 2011 and sentenced to death by the Colombo High Court on October 30 for alleged drug trafficking.
The Sri Lankan President commuted the death sentence after Prime Minister Modi had a telephonic conversation with him on the issue.
The Sri Lankan leader also welcomed Mr. Modi's initiative to develop and launch a satellite dedicated to SAARC.
During his address at the 18th SAARC Summit, Mr. Modi wished "good luck" to Mr. Rajapaksa for the January polls in Sri Lanka.
Later, Mr. Modi also met Maldivian President Abdulla Yameen during which the two leaders discussed economic ties and maritime cooperation. (The Hindu)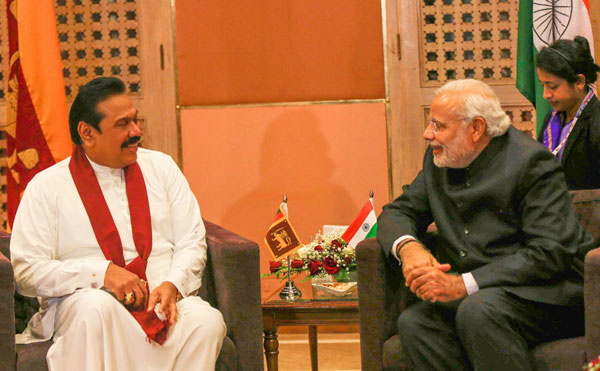 Pix by Presidents' media