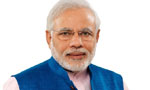 Prime Minister Narendra Modi may visit Sri Lanka's ancient capital Anuradhapura during his tour to the island nation next month.
Modi is set to travel to Colombo on March 13 and pay a visit to Jaffna on March 14. New Delhi, however, is trying to squeeze in to the itinerary a brief visit to Anuradhapura – a World Heritage Site, which has not only been an ancient political capital of Sri Lanka from 4th century BC to 11th Century AD, but has also been a centre of Theraveda Buddhism for ages.
According to the sources in New Delhi, prime minister is keen to visit the ancient political and religious capital of Sri Lanka. Officials are now exploring possibilities for a brief tour to the ancient city, either on the first or second day of his visit to the island nation, he added.
Modi is understood to be keen to visit Anuradhapura, as it is the place, where Mahendra, son of Emperor Ashoka of India, had delivered two public speeches on Buddhism in 3rd century BC.
(DH)