---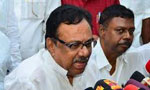 Indian Government under Prime Minister NarendraModi should work to ensure the defeat of Sri Lankan President Mahinda Rajapaksa in the Sri Lankan Presidential elections of 2015, said the Tamil Nadu Congress Committee chief E.V.K.S. Elangovan on Tuesday.
Meeting Congress cadre in the district, Mr. Elangovan said justice continued to be denied to Sri Lankan Tamils under President Rajapaksa's rule. Condemning Karnataka's proposed reservoir project across Mekedatu, Mr. Elangovan said the Tamil Nadu Congress will launch a series of protests if Karnataka did not back out of its plan.
Referring to the verbal duel between the AIADMK and the BJP staking claim for the successful release of the five fishermen from Sri Lanka, the TNCC Chief said the release of the fishermen need not be 'politicised'.
Taking a dig at Chief Minister O. Panneerselvam, the Congress leader said that the Chief Minister was still seen to be sulking, when he should be getting down to business. According to him, he envisioned a bright future for the party in the State, from the reception he has received in his tours.
Tamil Nadu Congress will launch a series of protests if Karnataka did not back out of its reservoir proposal, says the TNCC chief (Source: The Hindu)