---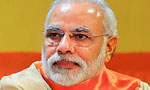 Indian Prime Minister Narendra Modi will visit Sri Lanka from March 13 to 15, Cabinet Spokesman and Minister Rajitha Senaratne said.
President Maithripala Sirisena visited India on February 16, his first State visit abroad since assuming office. The visit was part of efforts to repair relations with New Delhi, which had strained under the previous Government.
President Sirisena had earlier pledged to pursue a more global foreign policy in a break with his predecessor Mahinda Rajapaksa's pursuit of close ties with China, a key supporter of Sri Lanka's economy since its 26-year civil war ended in 2009.