---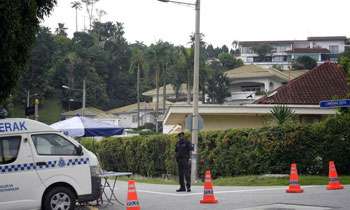 Sri Lankan rupees worth 2.87mn were found among the currencies seized from the Taman Duta home of former Malaysian premier Najib Razak since Wednesday, the Straits Times reported today.
The Malaysian Police seized over 50 luxury handbags from brands like Chanel, Gucci and Prada during the raid carried out at the Premier's residence.
The operation yielded a haul of ten luxury watches including several Rolexes, a Hublot and a Patek Philippe, as well as RM537,000 (S$181,000) and 2.87 million Sri Lankan rupees (S$24,400) in cash.
The crime investigation team lodged a report of the items taken from the Taman Duta mansion on Friday.
The 52 seized handbags included 16 from Chanel, 10 from Gucci, eight from Versace and five from Oscar de la Renta.
The police said the items were seized as the team had reasonable grounds to suspect they were the subject matter of a crime or crimes under Malaysia's Anti-Money Laundering, Anti-Terrorism Financing and Proceeds of Unlawful Activities Act 2001.