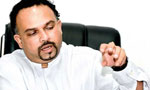 Sports minister Navin Dissanayake has been urged to order a probe into a match-fixing incident involving an Indian player during the Asia Cup tournament held in the country in June 2010.
Shammi Silva, a member of Sri Lanka Cricket (SLC) executive committee, in his letter dated February 20 and addressed to Dissanayake, stated that an Indian player was involved in match-fixing during the tournament held in Dambulla.
India, Sri Lanka, Pakistan and Bangladesh were the participating nations. According to the letter, Silva, on February 11, had written to SLC chair Jayantha Dharmadasa about the matter.
"Considering the importance of the matter, I kindly request you to appoint a special committee to investigate the above matter as early as possible. It is very essential to hold an inquiry by the Ministry of Sports in order to avoid unnecessary interference by vested interest personalities," Silva wrote in his letter to Dissanayake.