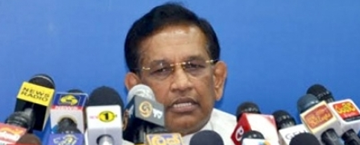 The Cabinet has approved Rs. 10,000 as the minimum wage for private sector workers, Cabinet Spokesman Minister Rajitha Senaratne said today.
This follows a Government decision to introduce a law of national minimum wages for the private sector employees.
While addressing in the cabinet briefing the minister said the government decided a national minimum wages policy by a separate law to the private sector employees according to the request of the Members of the National Labour Advisory Council (NLAC) and several employee unions.
The prevailing minimum wage of a private sector employee had been decided with considering the poverty line of Rs. 4,000 per capita income, but the present scale had been decided the minimum wage as Rs. 10,000 for an employee by considering the present cost of living.
The proposal had been presented to the Cabinet by Labour and Trade Unions Relations Minister W. D. J. Seneviratne, the Minister said.
"This is the first time in history, which considered increasing the private sector minimum salary scale by a law.
"It had been decided to grant Rs. 2,500 for each and every private employee by a law as well. This is apart from the minimum wage of Rs. 10,000," he said.
The bill took into consideration the opinions of the private sector employees unions, the minister said.
(Chaturanga Prdeep)