---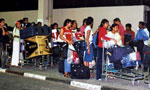 Seventy two migrant workers who were provided shelter by Sri Lankan Missions in the Middle East arrived at the Bandaranaike International Airport today.
Among the 50 women and 22 men, 48 were employed in Kuwait, 12 in Saudi Arabia and 12 in Qatar.
The workers were accommodated at safe houses after complaints of harassment as well as the non-payment of wages by their employers.
The Foreign Employment Bureau (FEB) provided them with the necessary funds and also contacted their families. (T.K.G.Kapila)