---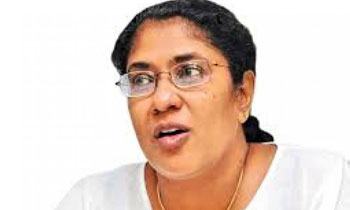 A group of 122 Sri Lankan women, who were allegedly harassed by their employers in Kuwait, returned to the country today, Foreign Employment Minister Thalatha Atukorale said.
Minister Atukorale told a media briefing that 44 migrant workers who returned to the country had lived in safe houses after they faced various issues at their work places."The balance 78 were staying back illegally and were told to go back. All the workers had faced issues ranging from expired contracts, non-payment of wages and physical harassment at their places of employment," the minister said.
The minister said the Sri Lanka Foreign Employment Bureau (SLFEB) had provided them with the necessary funds and also contacted their families.
Meanwhile, a Sri Lankan housemaid, who has been made to work in Kuwait since 2003 without being paid for 11 years, was paid what was owed to her in the way of salary arrears and brought back to the country yesterday with the intervention of Minister Atukorale.
The woman was identified as Mohommed Aliyaar Kairuniza, 28, a resident of Batticaloa who went to Kuwait to work as a housemaid when she was 14 using fraudulent documents.
After the SLFEB officials intervened, the employer had agreed to pay her salary with arrears amounting to Rs.2.5 million for eleven years.
It was also reported that she had been in contact with her father for the first two years after reaching Kuwait and had transferred her salary to her father's bank account in Sri Lanka.
However, her employer had informed her not to send money to Sri Lanka after her father's demise and had promised her to pay her accumulated salaries when she wanted to return back to Sri Lanka. "Kairuniza worked only for a single employer. She was unable to contact her family during that entire time and her family have not even made a complaint to the bureau regarding the matter," the minster said. (Kalathma Jayawardhane)