---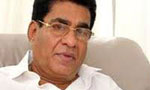 Minister Mervyn Silva is reported to have been threatened by an unidentified person who arrived in a jeep, outside the Colombo Chief Magistrate's Court this morning.

The incident had happened while he was addressing the media on the postponement of his son Malaka's case till 1.00 this afternoon.

Meanwhile the minister told the media that he would not cross over to the opposition.