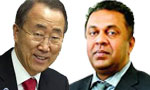 External Affairs Minister Mangala Samaraweera today said alongside his invitation for US Secretary of State, John Kerry to visit Sri Lanka, he will also be inviting UN Secretary General Ban Ki-moon to visit the country and added that discussions will also begin to institute a truth-seeking mechanism in a step towards promotion reconciliation.
The Minister made this statement on Wednesday speaking at the Carnegie Endowment for International Peace in Washington on 'Sri Lanka after the Presidential Election'.
During his speech, the Minister said discussions would commence by the end of this month with officials from South Africa to institute a truth-seeking mechanism suitable for Sri Lankan circumstances that would function parallel to the accountability mechanism.
"But unlike the South African version, it won't be for the purpose of amnesty but to facilitate healing and the reconciliation process of the victims," he added.
The Minister also said in a further step towards promoting reconciliation, Sri Lanka would also explore ways and means to harness the potential of the Sri Lankan diasporas to contribute towards local reconciliation and development efforts. Furthermore he stated that the government will be taking up the matter of the Assistance and Protection to Victims and Witnesses Bill in the parliament within this month.
The External Affairs Minister had also spoken on the foreign policy of Sri Lanka under the new government and had described the shift observed in foreign policy for the past few years during the Rajapaksa regime as an 'aberration' as it was uncharacteristic of Sri Lanka to have shifted away from its traditional foreign policy.
"Sri Lanka now seeks to renew its engagement with the world community," he had said while referring to his invitation to the UN Human Rights Council Chief Zeid Ra'ad Al Hussein to Sri Lanka and added, "I will be inviting the Secretary of State tomorrow to visit Sri Lanka and will also invite the UN Secretary General when I meet him on Friday," he said.
Mr. Samaraweera also urged the international community including the human rights community to be patient.
"This is a time of fragile transition and the GoSL is committed to the success of this journey while strengthening democracy, good governance and rule of law while ensuring the promotion and protection of human rights of all her citizens," he said.
Meanwhile, international media quoted Minister Samaraweera stating in Washington that Sri Lanka is seeking a delay of several months in the release of the UN report on the alleged abuses committed by both parties during the final phases of the war. "Once the report is finalized, we are hoping they can refer it to our domestic mechanism for action. . . We are hoping they could hold on to it until our mechanism is in place – maybe August, you know, or so," the Minister was quoted as telling the media.
(Lakna Paranamanna)