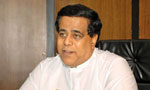 The main opposition yesterday sought clarifications in Parliament, regarding the communication by Foreign Minister Mangala Samaraweera to the UNHRC and on action to be taken locally and internationally regarding the resolutions adopted by the Northern Provincial Council (NPC) calling for an international inquiry into allegations of war crimes in Sri Lanka.
Opposition Leader Nimal Siripala de Silva, in his question raised under Standing Order 23/2 , said United Nations High Commissioner for Human Rights Zeid Ra'ad Al Hussein had announced that the report of his investigative committee on Sri Lanka would be deferred till September.
Mr. de Silva said the UN High Commissioner had acted in this regard in response to a request by the government of Sri Lanka. Also, he said Foreign Affairs Minister Mangala Samaraweera, in his communication with the UN High Commissioner, had pledged to bring about different reforms including the meting out of justice regarding war crime allegations, during the 100-day programme of the new government.
Against this backdrop, he said the NPC had passed a resolution calling for an international probe. Alongside, he said, the Tamil Diaspora had cited the deferral of report on Sri Lanka as inappropriate at this hour.
Therefore, he asked whether the Minister asked for the deferral of this report, and promised to ensure justice regarding war crime allegations through a mechanism. Also, he asked whether the Minister would submit documents of his correspondence with the UN system in this regard.
He also asked what action would be taken by the new government to safeguard the image of Sri Lanka in the United Nations Human Rights Council (UNHRC).
Chief Government Whip Gayantha Karunatilake said the subject minister would respond on the matter today.
(Kelum Bandara and Yohan Perera)