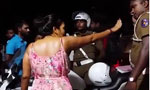 A man and a woman were arrested by the Kaduwela Police this morning following a fracas the woman had with traffic Police at Malabe last evening, Police Spokesman ASP Ruwan Gunasekera said.
He said that the mother had threatened the Police officers after they had warned her against driving with her infant on her lap.
The video of the incident, where the 38-year-old mother threatening the officers went viral on social media after a bystander posted it on the Facebook.
The Police said that woman had torn the charge sheet book and had taken a helmet belonging to the Traffic Police officer, prior to the arrest.
Following the incident the husband had arrived at the Kaduwela Police station this morning to hand over the helmet and had told officers that the wife was suffering from a mental ailment.
However, both the husband and wife were arrested thereafter.
"The husband was arrested because he had knowingly had given the vehicle to his wife, whose mental condition is not stable. Both will be produced before the Kaduwela Magistrate today. They will be charged with four offences, including causing damage to public property and preventing lawful duty," ASP Gunasekera said.
The wife was remanded till July 28 and the husband was released on bail by the Kaduwela Magistrate a short while ago.