---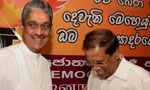 Common opposition candidate Maithripala today said he would restore civic rights and all military decorations of former Army commander and Democratic Party Leader Sarath Fonseka within hours if he is elected as the Executive President.

"I will restore all rights and military decorations of former army commander within hours of my election," he said.

Mr. Sirisena gave this assurance at a Democratic Party meeting which was held at Solis Hall this morning. The assurance was given when a member of the Democratic Party requested that Fonseka be given all his rights and decorations once Mr. Sirisena is elected.

The common candidate Sirisena said he and several others of the UPFA were not in favour of all harassments meted out on Mr. Fonseka but had to be silent. (Yohan Perera and Sanath Desmond)
Video by Sanath Desmond