---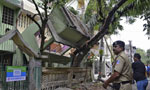 A 7.1 magnitude earthquake jolted several parts of Pakistan on Sunday afternoon, the Pakistan Meteorological Department said, causing fear and panic among residents who vacated buildings for the duration of the almost 'three-minute-long quake.'
In Pakistan, tremors were felt in Lahore, Islamabad, Rawalpindi, Peshawar, Swat, Chitral, Mardan, Kohat, Hangu, Shangla, Azad Jammu and Kashmir, DawnNews reported.
There were no immediate reports of injuries.
The quake was felt for a few seconds in Kabul in Afghanistan, where some residents evacuated apartment blocks after tremors shook ceiling fans and furniture.
The quake was also felt in New Delhi, where buildings in the centre swayed and the metro train system was halted temporarily as a precaution. The BBC's Sanjoy Majumder said a number of aftershocks were felt in the Indian capital. (Reports of Dawn.com and BBC)