---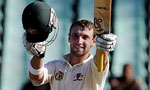 Phillip Hughes' innings has ended in the most tragic of circumstances. The young cricketer has died following a terrible incident in a Sheffield Shield match on Tuesday.
The 25-year-old from Macksville, NSW, had been on life support in St Vincent's hospital in Sydney since then. He would have turned 26 on Sunday and was tipped as a chance to play in the first Test against India at the Gabba next week.
Despite being resuscitated on the boundary line and emergency surgery performed after the incident, the blow to his head had caused too catastrophic an injury.
Hughes had a number of operations to reduce the swelling on his brain and had been on life support.
The force of the ball caused a massive haemorrhage that rendered him unconscious within moments and stopped his breathing.
Loved by everybody in the cricket community, and a close friend of captain Michael Clarke, the batsman's fate has stunned the game.
With his family and close friends by his side, a steady and sombre stream of players has made its way to Sydney and to the hospital or the SCG as the news of how seriously ill he was spread.
Hughes was 63no and bidding for another recall to the Test side when he was struck. (The Australian)