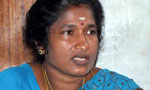 Ananthy Sasistharan, wife of a senior functionary of the Liberation Tigers of Tamil Eelam (LTTE), on Saturday urged Dravida Munnetra Kazhagam (DMK) president M. Karunanidhi and his daughter and MP, Kanimozhi, to break their silence on their role on the issue of surrender of LTTE members to the Sri Lankan security forces in May 2009.
In an interview with The Hindu , Ms. Sasitharan, now a member of the Northern Provincial Council (NPC), claimed that "it was after his conversation with Ms. Kanimozhi in Mullivaikkal at about 8 p.m. on May 16, 2009, my husband chose to surrender himself to the forces. This is not the first time that I am saying this. So far, there has been no response from the other side. It is time Karunanidhi Ayya and Ms. Kanimozhi break their silence and tell the world who were all behind the entire episode."
Asked if her husband had any other option, the NPC member said, "He might have taken cyanide pills as he had two." However, she said she was not aware of the instructions of the LTTE to its members in such an eventuality.
On Thursday, she deposed before the Mullativu District Court in connection with a habeas corpus petition filed by her, seeking the authorities to produce her husband, who is also known as Ezhilan and LTTE political commissar for Trincomalee at the time of surrender. In the court too, she had referred to the conversation between her husband and Ms. Kanimozhi.
Giving her account of events that took place in May 2009, the NPC member, who maintained that she had never been a member of the LTTE, said that she was present when her husband spoke over a satellite phone to Ms. Kanimozhi, who, according to her, represented her father. "After the talk, he told me that she had told him to surrender and she had also assured him of release, as talks were in progress at the international level," Ms Sasitharan said.
At around 8 a.m on May 18, near Mullativu District Secretariat, her husband surrendered to the security forces in the presence of a Catholic priest and he was followed by hundreds of LTTE members. Ms. Sasitharan and her three children witnessed the surrender. Later, they left for Vavuniya. [The same day, LTTE chief V. Prabakaran was killed by the Sri Lankan Army]
The NPC member said the surrender involving her husband was different from another surrender which was generally known and which took place on the same day. The latter case pertained to LTTE senior functionaries B. Nadesan and S. Pulithevan.