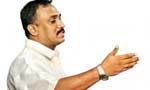 The Lanka Private Bus Owners Association (LPBOA) said it was going to request Inspector General of Police (IGP) N.K. Illangakoon take action to bar beggars and peddlers in their buses.
"We are going to request the IGP to take action to prohibit begging and the selling of goods inside private buses from January following complaints from many passengers," LPBOA Chairman Gemunu Wijeratne said.
According to the Motor Traffic Act of 1951, begging, doing businesses and conducting any lectures inside the buses were prohibited, he said.
He said that earlier the association had sent a letter to the former Secretary to the Defence Gotabhaya Rajapaksa in 2013 requesting assistance to ban begging and selling goods inside buses.
"But without taking action on our complaint, he had registered them under the Divi Neguma Programme and let them do their own businesses.
"Then we also sent copies of the letter to the former DIG, Minister of Private Transport Services C.B. Ratnayake and Minister of Transport Kumara Welgama as well," Mr. Wijeratne said.
"Though there are rules and regulations, the Police seem not to implement them properly. As a result of beggars and peddlers commuters face a number of inconveniences.
"We have received so many complaints from passengers and considering those, we decided to ban begging and doing such businesses inside buses," he said.
(Chaturanga Pradeep)