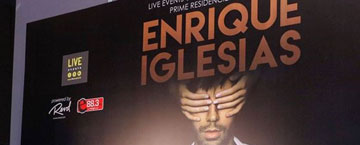 'Live Events', (the company that organised last December's controversial Enrique Iglesias concert at the CR&FC Grounds) had agreed to settle the tax payment to the Colombo Municipal Council (CMC) after it was accused of not paying the correct amount, said Municipal Commissioner M.K.V. Anura yesterday.
Speaking to Daily Mirror, Mr. Anura said the CMC had decided not to file a lawsuit against Live Events though they had earlier contemplated legal action.
"The organisers agreed to settle the due payments and, therefore, there is no need to take legal action," he said.
The earlier decision of the CMC to take legal action came after the parties failed to reach a settlement despite several rounds of talks.
An investigation conducted by the CMC's Treasury Department had exposed a tax fraud amounting to some Rs.30 million, based on the revenue earned by Live Events.
According to the Commissioner, the sum which had been withheld by the organisers will soon be paid.
The company was also blacklisted by the CMC because the tax was not paid.
The main stakeholders of the company are former cricketing stars Kumar Sangakkara and Mahela Jayawardane.
(Piyumi Fonseka)