---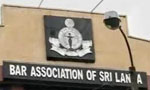 The Bar Association of Sri Lanka (BASL) has in a letter of demand sent to the Colombo Mayor A.J.M. Muzammil urged that immediate steps be taken to remove illegal propaganda hoardings erected within the Colombo Municipal Council areas.
The BASL said in the event of failure to comply with this demand, it would institute legal proceedings against the Mayor on charges of contempt of court, non-compliance with the law and corruption.
Samararatne Associates appearing on behalf of BASL Secretary Ajith Pathirana had sent this letter of demand stating that the Bar Council and the BASL Executive Committee had unanimously resolved to take up matters concerning a free and fair election on January 8, next year.
The BASL said nearly 1,800 of propaganda hoardings showing President Mahinda Rajapakse have been erected within the City limits of Colombo in direct violation of the by-laws published in the Gazette Notification dated January 20, 1989 and the January 1, 2006 Advertising Guidelines of the Colombo Municipal Council (CMC) and without any consideration given to the detrimental effects such unauthorized hoardings have caused on the scenic beauty of the City and blocking from view several traffic signs. (Lakmal Sooriyagoda)