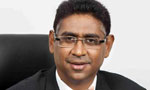 Local Government elections will be held in June after sorting out the grievances of all stakeholders with regard to the recommendations of the National De-Limitation Commission, Local Government and Provincial Councils Minister Faizer Musthapha said today.
He said the LG elections were postponed under the powers vested in him by the Local Government Act.
The minister said the five-member committee appointed by him to look into the grievances by a cross section of society including political parties on the shortcomings in the National Delimitation Commission report has undertaken to submit its final report to him by mid April.
He told a media conference that the LG elections were postponed because of some 2000 petitions against the recommendations of the Delimitation Commission.
"The Local Government Electoral Reforms Act drafted on the recommendations of the Dinesh Gunawardana led Parliamentary Sub Committee was gazetted by former Local Government Minister A.L.M. Athaullah on November 22, 2012. Under the provisions of the new Act, the local government polls must be held under the new electoral system. Under the new electoral system, 70 per cent of the members are elected under the first-past-the-post system and 30% under the proportional representative system. During his election campaign President Maithripala Sirisena had pledged to repeal the much criticized PR system and introduce a new electoral system to elect members who will be directly responsible to voters who elected him or her. It was mandatory to demarcate boundaries of LG bodies to implement the new electoral system and that was why the National de-Limitation Commission was appointed," the minister said.
He said the government was keen to eliminate the shortcomings in the delimitation process and thus ensure a free and fair election.
"If the government conducts the LG polls without heeding the concerns of the people, it will cause a political storm and the entire LG system would have been in a total mess, the minister said.
He said the problems which cropped up with regard to the delimitation report were enormous and complicated.
He said the report of the committee headed by Mr. Peiris would be handed over to President Maithripala Sirisena enabling him to issue the relevant gazette notification declaring the elections.
"The Elections Commission is required to hold the LG polls within 56 to 70 days from the date of the gazette notification," the minister said.
(Sandun A Jayasekera)