---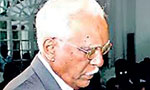 R.K.W. Goonesekere, one of Sri Lanka's foremost legal luminaries, passed away on Monday and his cremation will take place at the Jawatte Cemetery this evening.
Hailed as a defender of civil liberties, he fought and espoused the cause of individual freedoms.Mr. Goonesekere was one of the few remaining lawyers from the immediate post-colonial era.
He was the Chancellor of the University of Peradeniya, a Professor and Professor of Law, Ahmadu Bello University and Principal of the Sri Lanka Law College.
During his eight-year stint at the Law College as its Principal, Mr. Goonesekera was at the forefront of many structural changes. The years during which he was at the helm were termed as the "Golden Era" of the Law College.
He was the Chairman of the Civil Rights Movement and Law and Society Trust and was head of the Media Reform Committee.
His wife Professor Savithri Goonesekera is also an academic in her own right.
His remains lie at his residence in Narahenpita.