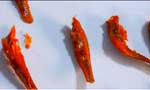 What would have been a lavish dinner for inmates of the New Magazine Prison was ruined when police nabbed a woman carrying a dish of stir fried sprats spiced with heroin.
Officers of the Colombo North Division Vice Squad, on information received, took a woman into custody near the Baseline Road level crossing in Dematagoda this morning with a suspicious parcel of food.
The police examined the parcel carefully and found a plastic box containing some delicious looking stir fried sprats and onions. But when they examined it carefully they found tiny polythene packets hidden inside the bodies of the fish.
The policemen had cut open the packets one by one and found that they contained heroin. There was a total of two grams and 300 milligrams of the drug.
Police spokesman ASP Ruwan Gunasekara said the woman on being questioned had said the intended recipient of the food parcel was an inmate of the New Magazine Prison in Borella.
The suspect, a 53-year-old woman from Serpentine Road in Sahasrapura, Borella had been handed over to the Dematagoda Police for further action.
The Vice Squad conducted the raid on the instructions of the SSP (Colombo North) Ajith Rohana.
(Kurulu Koojana Kariyakarawana)