---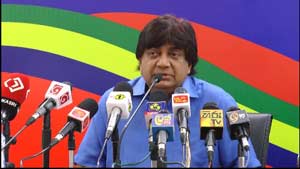 UPFA Minister Dilan Perera today lashed out at UNP General Secretary and Minister Kabir Hashim for allegedly making statements belittling previous UPFA governments.
Addressing a news conference, the minister said it was not appropriate to make such remarks against the UPFA while a national government was in place."Our country was engulfed in terrorism when the previous UPFA government came into power. There were even eelam courts and they even had their own police force. It's the UPFA government which defeated terrorism. It's true that we lost twice at elections because of our shortcomings. That doesn't give anyone the right to belittle each and every progressive measure we took," he said.
He claimed Minister Hashim had remarked that Sri Lanka had been a lavatory of capitalist economic strategies during the reign of the previous UPFA government.
"It was the UNP that couldn't figure out what a lavatory was. The 2016 budget was on the verge of turning into a nice lavatory but we were able to prevent that as SLFPers who are now a part of the national government. Be it is capitalism or otherwise there should be the right for people to live and breathe in freedom," Minister Perera said.
(Lahiru Pothmulla)
Video by Buddhi