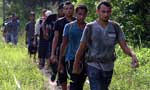 Nineteen foreign migrants including a Sri Lankan held captive in the border city of Nuevo Laredo in Mexico were rescued Saturday by Mexican authorities.
The operation that took place in the state of Tamaulipas, which borders Texas, was carried out by Federal Police who were acting on a complaint made by a citizen, according to the National Migration Institute (INM), El daily post reported.
Acting separately, agents from the INM and Federal Police personnel ran door-to-door checks and found nine Hondurans, seven Nicaraguans, two Salvadorans and one Sri Lankan, all of whom were victims of a criminal group who were holding them in attempts to extort money.
According to an INM communication, the kidnappers had tricked their victims by offering to take them from San Luis Potosí in the center of Mexico to the U.S. border.
When they arrived in Nuevo Laredo the criminals took them hostage and made them reveal their relatives' telephone numbers. They then demanded money from the relatives in exchange for the captive migrants' freedom.
One presumed member of the criminal gang was captured in the operation. The migrants were put under INM control.