---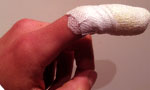 A Sri Lankan worker in Dubai, who was under the influence of alcohol when he bit his Pakistani co-worker's finger following a heated argument, has been jailed for one year.
The 29-year-old Sri Lankan, was said to have had a heated argument with his co-worker had bit the latter's finger in June, Gulf News reported.
Dubai Police's forensic examiner confirmed that the victim sustained a permanent disability in the bitten finger.
The Dubai Court of First Instance jailed the Lankan one year for assaulting the victim and also fined Dirham 2,000 for drinking liquor.
According to the charge sheet, prosecutors said the defendant intentionally assaulted and caused him a six per cent disability. Records said the victim's injury required him to take 20 days' sick leave.
The accused pleaded guilty and contended that he did not have any intention to cause the victim a permanent disability.
"We had a fight and I was defending myself… besides I was drunk," he claimed.
The defendant was cited admitting to prosecutors that he assaulted his co-worker and bit his finger while he was under the influence of liquor.
Meanwhile the Pakistani testified that he had a fight with the victim who was consuming alcohol.
"We were present in the room and he was drinking too much. We had a heated argument and then we fought. He bit my finger," claimed the Pakistani.
Medical reports confirmed that a piece of the index finger was removed after the bite.