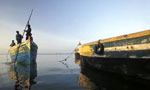 A Sri Lankan fibre glass boat was found abandoned off Thangachimadam near here today with locals claiming five unidentified persons disembarked from it.
The boat belonged to Mannar District in northern Sri Lanka and its engine was found removed, police said.
Locals informed police that five people got out of the boat at Kannupaadu near Tenkadal (South sea) near Thangachimadam carrying some goods, they said.
Investigations are on to verify the claims of the local people and to find whether the engine boat had been buried for future use, police said.
The incident has sent police into a tizzy as the boat had managed to reach Indian coast ducking heightened vigil along the coast and in the sea including the international maritime boundary line.
Police said security along the coast in the region has been put on alert recently following an alert from the centre about possible infiltration by Lashkar-e-Toiba or ISIS militants from sea through this island.
Besides intense patrolling by the coast guard, the coastal security group police and local police in coastal areas have been asked to keep a tight vigil, police said.
(outlookindia)