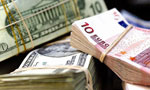 A 35-year-old Sri Lankan male was arrested at the Mattala Mahinda Rajapaksa International Airport (MRIA) while attempting to smuggle out Rs. 60 million worth of foreign currency this morning.
Customs Spokesman Leslie Gamini said the suspect was arrested by the MRIA Customs officials at the Departure Lounge, while attempting to smuggle out them to Dubai.
"The foreign currencies were found concealed in a false bottom of a bag, which was inside a bag in his baggage," Gamini said.
The raid was conducted over a tip-off received by the Colombo Customs Department.
"The suspect is a resident of Weligama and he had currencies to the tune of Rs. 66,076,213," he said.
"Foreign currency notes US$ 184,750, Euro 183,400, UK Pounds 16,660, Kuwait Dinar 2,690, Saudi Riyal 77,500, Qatar Riyal 16,000, UAE Dirham 11,900, Danish Kroner 67,000, Swiss Franc 1,200 and Oman Riyal 1,125 were found in his baggage," Mr. Gamini said.
The confiscated foreign currency notes were handed over to the Custom's Central Investigation Bureau in Colombo.
Investigations are being carried out by the Deputy Customs Superintendent Nishantha Jayasinghe, Hasantha Guruge, Assistant Superintendent Nuwan Abeynayake and AKR Samanjith.
(
Chaturanga Pradeep
)