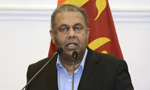 Sri Lanka has signed the International Convention for the Protection of All Persons from Enforced Disappearances, the Foreign Ministry said.
The document was signed on Thursday at the United Nations Headquarters in New York by Sri Lanka's Permanent Representative to the UN, A. Rohan Perera.
The Act in relation to the Convention, which will hold the government accountable for enforced disappearances, is being drafted and expected to be passed in parliament next month.
Foreign Minister Mangala Samaraweera said enforced disappearances, even those not connected to the conflict, had plagued Sri Lanka.
"Ratifying the convention demonstrates the government's stance. It is not a matter of partisanship and we hope it is not seen as such when it is tabled in Parliament," he said and added that the Act would be of no help to the families of those who disappeared during the conflict, but would ensure that future governments would be held accountable for any such disappearances.
"This will ensure that governments won't shirk their responsibilities in such situations and will be answerable not only to Sri Lankan citizens but also to the international community," the minister said.
Discussions are also underway with the International Committee of the Red Cross about setting up a domestic mechanism to look into disappearances which occurred prior to the convention being ratified.
"We hope to set up a permanent office in Sri Lanka to look into these matters. "It was not the time to defend the past human rights record of this country but to retrieve Sri Lanka's lost voice in human rights. Enabling a good record at home will allow the country to be a global voice for human rights," the minister said.
(Nabeela Hussain and Lahiru Pothmulla)