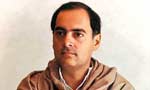 The Multi-Disciplinary Monitoring Agency (MDMA) is keen to know about the bank details of Selvarasa Pathmanathan alias 'KP' and some of his associates over the investigation on Rajiv Gandhi Assassination Case.
The agency had written to the Sri Lankan authorities in this regard earlier but no positive response came from the authority concerned", sources said.
He had been arrested in a Southeast Asian country and was brought to Sri Lanka, they said.
Further investigations had been conducted by the MDMA on Rajiv Gandhi Assassination Case after obtaining necessary permission from the designated Terrorist and Disruptive Activities (TADA) Court, Chennai, Indian media reported.
The Former Prime Minister was assassinated on May 21, 1991, when a LTTE suicide bomber blew herself up at an election rally in Tamil Nadu. Earlier, MDMA had sought permission from the Sri Lankan authorities to question the alleged financier of Liberation Tigers of Tamil Eelam (LTTE) Selvarasa Pathmanathan.
(Deccan Chronicle)