---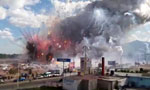 Explosions ripped through a fireworks market north of Mexico City on Tuesday, killing at least 29 people and sending columns of smoke into the sky.
Seventy-two people were injured, said Eruviel Avila, governor of the State of Mexico.
Three minors are expected to be transferred to a hospital in Galveston, Texas, for treatment of extreme burns after the blast in Tultepec, about 40 kilometers (about 25 miles) north of Mexico City.
Video captured flashes of fire and what appeared to be fireworks exploding. A witness told CNN that people ran for their lives. The death toll climbed throughout the evening.
The cause was not immediately known.
Jose Luis Tolentino said he was in traffic and heard loud noises. Some of the people who tried to get away tripped in the frantic dash, he said.
Tolentino said the fireworks market is the size of a soccer stadium.
Pyrotechnics are a major industry in Tultepec. In 2005, a large explosion took place at the same fireworks market. That blast injured many people and caused enormous damage.
Emergency responders were at the charred scene and assessing the damage Tuesday, Luis Felipe Puente, coordinator of Mexico's national civil protection agency, told CNN affiliate FOROtv.
Photos from Red Cross Mexico showed the devastation and paramedics on the scene. (CNN)