---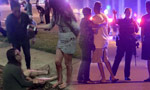 Fifty people were killed inside Pulse, a gay nightclub, Orlando Police Chief John Mina and other officials said Sunday morning, just hours after a shooter opened fire in the deadliest mass shooting in U.S. history.

At least 53 more people were injured, Mina said. Police have shot and killed the gunman, he told reporters.

"It's appears he was organized and well-prepared," the chief said, adding that the shooter had an assault-type weapon, a handgun and "some type of (other) device on him."

Officials warned that a lengthy investigation was ahead, given the number of victims and the scope of the violence. (CNN)